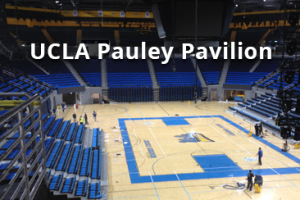 Pauley Pavilion
UCLA John Wooden Center
Los Angeles, Ca.
Major Water Damage to Main Court
In November 2014, UCLA Pauley Pavilion sustained heavy water damage to its newly installed main court caused by heavy rains. Since it was basketball season, and UCLA wanted to be able use the court, Maïer set up a drying system beneath the floor and behind bleachers to dry the floor in place during televised games.  When the floor dried, warping of the wood floor faded away and only required a light sanding. Using a combination of air movers and desiccant dehumidification, Maïer was able to dry the floor to pre-loss moisture content, saving the new wood floor, and over $350,000 in floor replacement, not including loss of use.