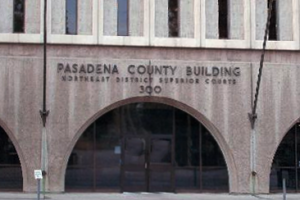 Pasadena Courthouse
Pasadena, Ca.
Fire, Smoke and Water Damage
Contacted in the early hours of July 27, 2015, Maïer had a crew of 25 personnel on site within an hour in response to a fire that originated in a mechanical room, which affected several floors of the courthouse. Maïer proceeded to abate and clean smoke debris and soot from all six floors of the Pasadena Courthouse. Due to the need to maintain public services, it was critical to get the courthouse operational as soon as possible. Maïer was able to get three floors operational within 24 hours. An additional two floors were cleaned within 72 hours and became operational once power was restored. Maïer identified odors were traveling through the elevator shafts and created a pull system to keep odors out of cleaned areas. Maïer also cleaned a 5000 sq. ft. area that had been previously cleaned by another company, but did not achieve the required air clearance. Maïer's cleaning effort resulted in obtaining clearance by a third party consultant on the first round of cleaning.
At the start of the project, Maïer cleaned the mechanical room, which was the fire origination area, of asbestos, smoke, water and fire damage. The area obtained air clearances for asbestos and VOCs within 30 hours, enabling the different trades access into the room to evaluate the mechanical and electrical systems.